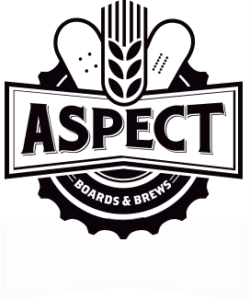 Some things in life just naturally go together, such as epic snowboards and delicious craft beer. Aspect Boards and Brews believes in just that, and they offer a specialized selection of snowboards, skateboards, and accessories with their recently added taproom and beer garden! Their small group of dedicated employees believes in the lifestyle of the winter sport and are each passionate snowboarders and skateboarders.
Aspect Boards and Brews offer's Westside's most desirable spot to enjoy the Bend sunshine, beer culture, and the best people watching. Aspect Boards and Brews wants to be your first and last stop of the day; rent your gear in the morning from their large selection of snowboard and ski rentals, then enjoy a vast list of brews after a long day on the slopes.

The Best Gear to Purchase or Rent
Aspect Boards and Brews carry a majority of skate, snowboard, and longboard brands. Some top tier brands they stock include Airblaster, CandyGrind, Dot Dash, and Never Summer. They even offer special ordering of products if there's something you are looking for that they don't have!
Aspect Boards and Brews provides rental packages for skiers of all ability levels at the lowest prices in the Central Oregon area. Let one of their educated staff members hook you up with some of the best gear available for your next winter sports adventure. You can even save time by downloading the rental forms online! Aspect Boards asks for deposits on all of their rentals for those who are 18 years and older.
Local Craft Beers and Cider
Nothing warms the soul quite like a pint of fresh, locally made craft beer after a cold day of taking down the Bend ski slopes. Aspect Boards and Brews prides itself in a solid selection of local craft beers, cider, Kombucha, and wine. Come enjoy any local beer at $5 a pint or $13 for a growler fill—now that's a "brewtiful" deal! They're proud to offer Red Tank cider, Caboost Kombucha, and local wine from Volcano Vineyards; they even offer $3 cans of American favorite PBR if craft beer isn't your thing!
Boards and Brews, What Else Do You Need?
Aspect Boards and Brews is proud to offer some of the top brands in the winter sports gear and local craft beer industries. Give them a shout today at (541) 389-4667 or visit their website at http://www.aspectboardsandbrews.com/ for a discount on your first day rental. Store hours are everyday from 8:00am to 7:00pm, with closing time for beer varying depending on the day. Our summer hours are usually 10:00 open, but we may change this summer to noon! And we close when the beer quiets down, anywhere between 8:30-10.